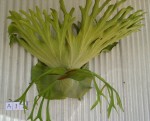 Spectacular mounted and unmounted Staghorn & Elkhorn ferns, (Platycerium superbum/bifurcatum). Mounted & Unmounted ready to hang on a wall, tree or in the shadehouse/fernery for a striking display. Each plant certified and labelled by licence.
Best results in dappled light with occasional light fertiling. These plants are epiphytic and easy to care for growing on air and fallen leaves etc.
A fantastic addition to any garden.
These plants are very carefully packaged and delivered to you anywhere in Australia.
Showing 1–12 of 17 results